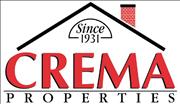 Crema Properties, established in 1931, is a full serivce real estate firm specializing in Investment Property Sales, Investment Property Management and Property Valuations. Our motto is "The more you know... the better we feel!" We have over 50 years of quality service in the sale and management of single family homes, condos/townhomes, duplexes and small apartments in Santa Clara and Santa Cruz counties.
We provide complete buyer and seller services for purchase of residential one to four unit properties.
We provide full property management services that include construction, marketing, resident screening, leasing, maintenance, and accounting.
We provide property valuations for single family homes, condos/townhomes, and 2-4 Unit dwellings for lenders, banks, real estate agents and private individuals.